Phew! Been a long time since I posted here, and much has happened. I (and several friends) have been working hard on the aforementioned toy blog, which will hopefully go live very soon. When that happens, BBn will become more of a personal blog.
Now onto the real news. As you'll recall, I proposed to DG back in August. She hails from Simi Valley, just outside Los Angeles, and so while spending the Thanksgiving holiday with her family, we took the time to schedule the big day as well as find a location. The process was mildly stressful, but relieved by the presence of dogs, a trip to Disneyland, and large amounts of turkey and stuffing.
The wedding will be held at a beautiful ranch in Malibu next August. It will be an outdoor ceremony, followed by a reception in the hall next door.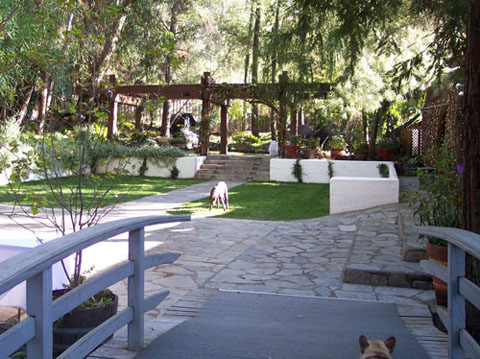 Here's a look at the garden where the ceremony will take place. The dogs (there's a French bulldog at the bottom right, too) are native to the ranch but, presumably, not present during the ceremony.

Here's a closer look at the garden.

And this is just a small peek at the beautiful, enormous reception hall. We haven't yet pinned down any other details–including a guest list. But since the wedding will be in Los Angeles, which isn't exactly convenient for many of our New England-based friends and family, there will be an East Coast reception party at some point as well.
As I mentioned, DG and I also spent a day at Disneyland. I've been to Disney World twice (both prior to becoming a teenager), but never Disneyland. I wasn't sure what differences there were between the two theme parks, but I knew one thing: Disneyland had churros. I'd never had a churro, but after reading a Family Guy comic in which Peter said, "This is what God would eat if he weren't diabetic," I decided it was time to try one. (For the record, it was good. Kind of like a stick of fried dough covered with cinnamon sugar.)
I'm not a huge fan of rollercoasters. Or any fast ride, really. Of course, real rollercoaster afficionados wouldn't probably deign to label the fastest ride at Disneyland as a "rollercoaster," but they're plenty fast for me. DG managed to drag me on every single ride that bore a physical health warning (except for Splash Mountain, which was broken). We went on so many rides that I soon discovered the exact degree to which I was comfortable on fast rides: the Indiana Jones Adventure and Big Thunder Mountain Railroad represent the upper limit of what I can handle and still get some enjoyment out of the experience. The Matterhorn, on the other hand, was a bit too intense.
Let's not even talk about Space Mountain. The last time I went to Disney World, I had just managed to work up the gumption to get on Space Mountain when my parents decided it was time to leave. I half-heartedly protested, but secretly I was relieved not to have to test my mettle. This time, I stood in line for an hour and a half in order to spend four minutes in pure, unadulterated terror. The turns were so powerful I could feel the blood rushing from one side of my head to the other, and had a headache for hours afterward.

Here we are in happier times, before I came face-to-face with my own mortality on Space Mountain.

It wasn't all rollercoasters and contemplation of one's death. Here's DG gleefully making me ill on the Mad Hatter's teacups.
But I kid my beloved wife-to-be. I had a great time at Disneyland. The Indiana Jones ride was a blast. I got to visit Star Tours once again (this time around, I noticed that the robotic pilot is voiced by Paul Reubens, a.k.a. Pee-Wee Herman).
The Haunted Mansion Holiday was interesting. For those who don't know, Disney now overhauls the Haunted Mansion ride with a Nightmare Before Christmas theme during the holidays. I was a bit disappointed–I hadn't seen the original Haunted Mansion in ages and hoped to enjoy it with adult eyes. But it was still cool to experience the NBX-ized version.
And the churro was awesome.
Since I spent last year with DG and her family in LA, this year she'll join my family for our Xmas craziness. It began the very weekend we returned, with the annual Christmas Tree Hunt. With a group of family and friends we drove an hour and a half out to Sterling, Mass., where we proceeded to cut down a number of live Christmas trees (DG and I did not get one–our apartment is too small for an unwieldy live tree). At this point, my younger sister is about the only person who's still as enthusiastic for this trip as she was when we made the first one nearly twenty years ago.
Still, DG and I got a nice photo out of it: